Home
Clothing Patterns
Books
Cross Stitch
Kits
Cross Stitch
Charts
Gift Certificates
Ready-mades
Clothing Kits
Customer
Comments
Learn More!
Ordering
Terms
FAQs
Goals & History
Research & Consulting
Events
Contact Us
Links
Model Theater
Division
New!
Model Figures
and Dioramas
Why the Rooster?
Privacy Policy
All illustrations, text and designs contained in this site are © Copyright 1982-2012 Kannik's Korner, or its licensors.
All rights are reserved, and none may be used without prior written permission.
Men's Patterns 1750-1800
Authentic, Documented Historic Clothing Patterns
for the Living History, Museum and Theatrical Costumer
Use your scroll bar to view more patterns below!

New! Man's Trousers
High-Waisted
1790-1810

Fall front straight trousers pattern for common working men and some fashionable men. Designed for the waistband to be worn just above natural waist (i.e. above hip bones). It includes directions for making closer fitted legs, and fitting information for "mature figures" with bellies! Three variations of fall binders included: pointed (shown), rounded or square (not shown). Optional watch pocket in waistband. Vents at ankles.
Includes pattern and directions for making "Braces" (suspenders), which help to keep the trousers at the higher fashionable waistline!

See notice on the larger size group.

Waist sizes 28-42 or 42-52.

Pattern KK-4303
$18.00 US each
Be sure to select your size below,
before adding to the cart!


New!

Click image and maximize
window for larger view!

Notions Correction -
Trousers require 5 3/4 inch button molds
and 4 5/8 inch button molds
---
Man's Outer Breeches
"Slops" Pattern
1750-1820
A protective garment used by sailors (even pirates), fishermen, farmers and field workers, generally worn over breeches or trousers. Based on original garments and contemporary illustrations. Side pocket slits to reach breeches pockets. Center front opening without fly buttons. Laced vent in back of waistband. View A has optional watch pocket or watch pocket access flap (to reach breeches watch pocket). View B has pleated front and wider waistband.
Includes waist sizes 32-34-36-38-40-42-44-46-48-50-52

Pattern KK-4304
$18.00 US each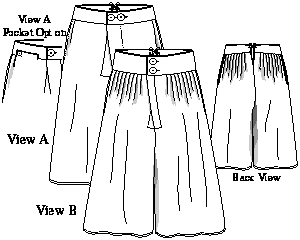 Correction Notice! Pattern KK-4304 yardage.
We may have ready made slops!
Click here to see.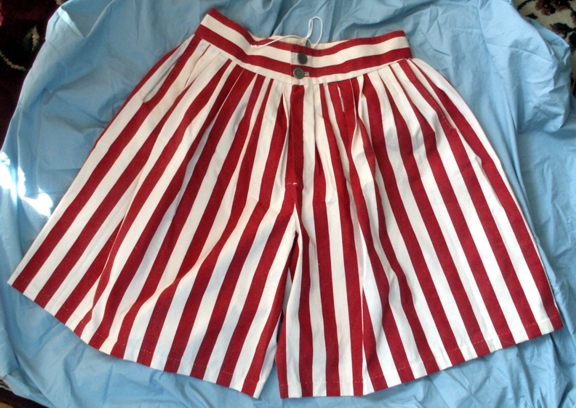 ---
Man's Double-Breasted
Short Jacket
1770-1800

A full size pattern of a general purpose working man's jacket. Based on contemporary illustrations as well as an in-depth study of original garments, this jacket features a full lining, welted pocket, a neck edging detail, as well as three sleeve variations. Worn by farmers, laborers, apprentices, seafarers, sportsmen and others (probably even pirates), this jacket is sure to find a place in your wardrobe!
Suggestions included for altering to fit the "mature" male figure.

Includes sizes 38-40-42-44-46-48-50

Please see our Notice on this pattern

Pattern KK-4551
$20.00 US each
---

Man's Shirt
1750-1800
English Style

A full size shirt pattern, based on original eighteenth century English cutting instructions, with construction techniques from various original shirts.

Includes directions for optional variations of bosom and sleeve ruffles.

The perfect pattern for an 18th century pirate shirt!

Includes sizes XS-S-M-L-XL-2X-3X.

Pattern KK-4101
$14.00 US each
---
Menís Accessories
Common Items used by Men of all Classes
c. 1740-1830
Click and maximize
window for larger view!

Includes full scale patterns and directions for:

Linen Neck Stock*, three views for different buckle styles, neck sizes 13-1/2 through 19-1/2 inches;
Apron, basic pattern with waistcoat button-hole and ties, S-M-L-XL;
Mittens*, cloth, leather or fur, sizes 3XS Ė 4XL;
Hood, cloth, with button face flaps, flares onto shoulders, in 1/4 hat sizes 6 through 8-1/2;
Linen Night Cap, one size;
Folded Pocketbook, two or four section styles, and
Tied Pocketbook, with scalloped flap, in one or two section styles, with suggested needlework patterns;
and directions for making a Wallet, a bag used to carry goods and belongings over the shoulder (not illustrated on cover).

* inspired from Diderot and Garsault Encyclopedias

Pattern KK-4001

$14.00 US each



Click and maximize
window for larger view!

---